Overall impression
Fuerteventura used to be a green island but after the Spaniards introduced goats the greenery is gone. Now the island is a dessert constantly in movement by strong winds, and millions of tonnes of new sand is dumped every year from Sahara by the same winds.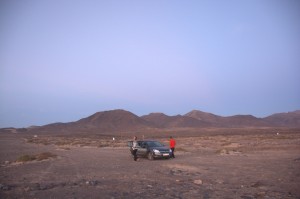 The islands west side is less accessible than the east with a higher coastline of rocks towering over the ocean, with access through more or less known bays. It is also less touristic and if you like to find your own beach or bay this is the side to go to.
The north part of Fuerteventura is more relaxed, more for surfers, more British and with smaller beaches surrounded by corrals and lava rocks.
The south part of the island is big hotels, lots of them all inclusive which have made the restaurant and night life less interesting. Average age around 65 and naked is the dress code on the beach. So if you like to avoid naked German elderly people…

All-in-all Fuerteventura is an interesting place and for surfers, wind surfers and kite surfers it is a great place. But there are also lots of different things to do, such as driving different kinds of vehicles through the deserts, some snorkeling and of course getting a tan on the beach. But if you are interested in culture or night life, there are better places to go.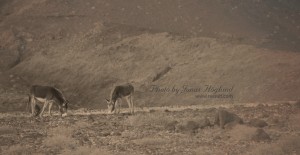 El Cotillo
This little picturesque fishing village is perfect for the slow and relaxed retreat. Just a couple of restaurants and no hotel complexes but lots of smaller places where you can rent an apartment real cheap, from about €30 per night. There is no night life but Corralejo is only a 30 minute drive away.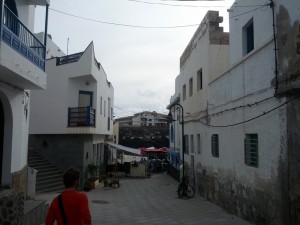 Corralejo
A surfer town with lots of smaller bars and restaurants. Most of them serve traditional Spanish food with great and fresh sea food, but there is a variety from smaller Eco-bars to British sport bars and night clubs. Some Indian and Chinese restaurants and surfer joints if you get tired of standard paella or pizza. A lot of the bars also have live music almost every night of the week with mixed quality.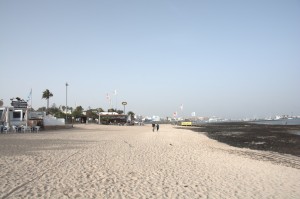 The beach at Corralejo seems nice at high tide, but lots of corral and lava rocks just outside the sand
You can choose from surfers hostels (€16) to apartments (€35) and all inclusive hotels (not my thing). There are some large, not so fun, apartment complexes, but I recommend one of the smaller places with a more personal ambiance.  We found Mar Adentro at the beach about 10 minutes walk from the main road where we got an apartment for 3 people for €35 per night. Amazing location, ocean side pool and bar, and super friendly staff.
If you like to rent a surf board, we came across Mosquito surf shop. Great staff and affordable prices!
Morro Jable

The pier at the southernmost point of Fuerteventura
Driving into Morro Jable, Fuerteventuras southernmost town, is like coming to a town on the Riviera. Hotels and apartment hotels crowd the slope facing the five kilometer long beach. This is the place for nudist Germans to go, and the average age is closer to 70 than 60. Menus are first in German, then Spanish or English. Maybe it doesn't sound too inviting, but the beach is amazing and down town you can find nice (more or less) local restaurants to enjoy great tapas and sea food. Along the main street there is a nice Chinese restaurant with great duck almost for free. Look for the red Chinese lamps.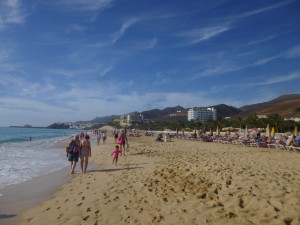 No hostels around (business idea) and the cheapest acomodation we found was an apartment at Alameda de Jandia for €60 for three persons, with a great view and a nice pool area, but terrible WiFi not included (most hotels offer WiFi at about €6 extra per night).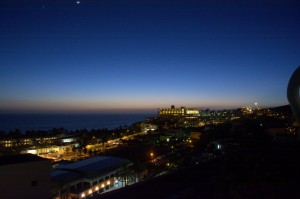 Costa Calma & Sotavento
20 minutes north of Morro Jable is Costa Calma and Sotavento beach and lagoon. This is a strange place for  a tourist resort. The beach is nice, but not really accessible, and it is one of the most windy places in Europe. Therefore great for windsurfers and kite surfers, but for the normal sunbathing tourist? All inclusive hotels and all in house equals less restaurants and bars for the more outgoing tourist. The only place with some kind of night life (B-Side bar with great pasta, Divino night club and Rapa Nui bar) is the Bahia Calma area where I also found an apartment for €42 per night with great WiFi included.
The only reason to stay here (for me) was that I could walk to the Sotavento beach to kite surf. But next time I rather stay in Morro Jable and rent a car instead.
La Pared
La pared is a surfers place, with a fantastic scenery and really good waves when the swell is right. But to stay and live here is not an option. The only hotel was closed and bungalows for surfers started at €70, and basically nothing to do at night.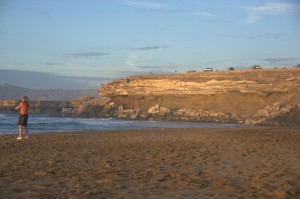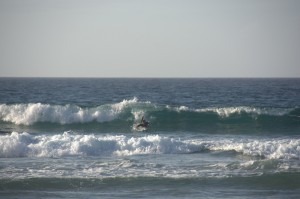 Entering La Pared is an interesting experience: the gravel street that takes you off the main road end up at a quite new but already disintegrating boulevard leading into the village. Apparently they tried to make this a resort and were going to build apartment hotels, but for some reason they gave up after building half of the infrastructure.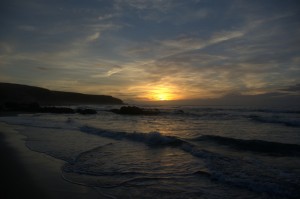 But if you are a surfer or just like to see the amazing coastline scenery, it is worth a visit!