Between Fuerteventura and Lanzarote is the small, uninhabited island of Los Lobos (Wolves). According to Tobias' (so far) bulletproof website MagicSeaWeed, Los Lobos was the place to be today, with a swell of 4-5 feet. A 20 minute ferry to takes you to the island for €15 round trip (€10 if you bring a board during low season, no kidding). After Tobias missing the first ferry, me forgetting the wet suit and camera, we should have read the signs and gone somewhere else.
To keep the story short here's a few tips:
There is a beach on the north shore with black sand but less surf. If you get here – DO NOT TRY TO WALK AROUND THE MOUNTAIN – it is better to walk back and start over!
To get to the best waves go the left of the mountain (west) not right – see above… that hike is not to recommend, especially with a board!
Rent a boat to take you to the island (and back), then you can get back when you want – for a couple of people the price should be about the same and the ferry only goes back at 4 and 5 pm.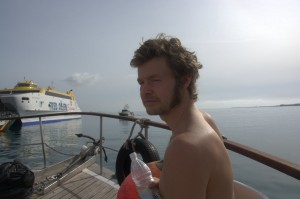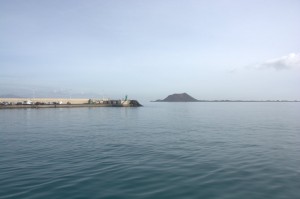 Los Lobos from the harbor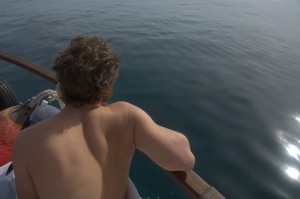 Depth: 10-20 m and the bottom is still visible
Black sand beach on the north side

A rest on the rocks of lava, stone, coral and sand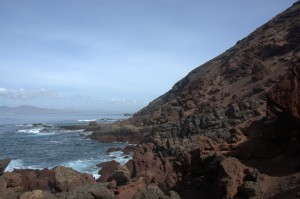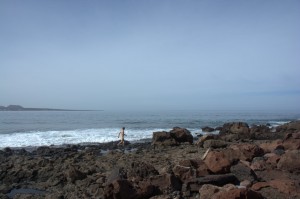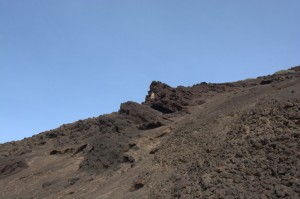 Bernd coming down from his hike to the top. Down is harder than up!
But after hiking for 3 hours, seeing dead rabbits, a rabbit bone graveyard, dead seagulls, live seagulls, interesting formations of stone and clay, lava rocks, and accepting the fact that there was no waves, we ended up at La Laguna, a small lagoon next to the harbor. We tried some snorkeling but besides some smaller fish at the inlet there wasn't much to see. But we got some sun and waited for the first ferry to take us back to the mainland.