Åreskutan elevates 1420 m.a.s.l. and high above the neighboring mountains. I was just taking my new snowboard boots from Thirtytwo (link here) out for a test ride, but decided that I would walk up to the top to take some photos while the weather was nice. The snow, wind and humid air coming from the Atlantic forms beautiful sculptures on rocks, buildings and anything that comes in the way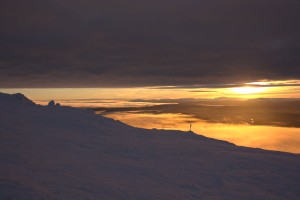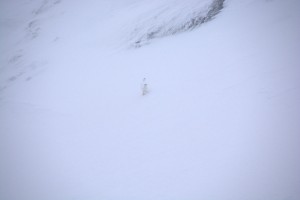 A  ptarmigan in the snow on the hillside, like a polar bear in a snowstorm
The walk from the lifts is about 30 minutes (later in the season there's a snowmobile that drags you up for SEK50), and on my way I started talking to two gentlemen, who apparently were more experienced skiing off the top. They kindly asked me if I would like to come with them and since I've never went down that side before I agreed.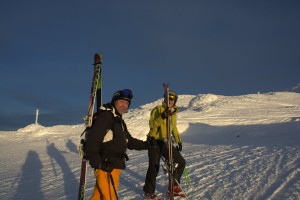 Robert and Henrik were really nice guides and after the first steep part we came down into some nice bowls before it was time to cut across the side of Lillskutan (Small Skutan) before going in to the bush and some more nice bowls. Despite the terrible winter with almost no snow down in the town, the conditions on the backside was surprisingly good. According to the guys this side of the mountain almost always have good conditions, so I guess it is a safe bet.
Turning on my go pro to time-lapse wasn't the greatest idea, at least not a two second lapse. But here is the result anyways.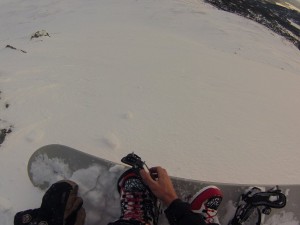 Heading into my FAVORITE location, small bowls in the bush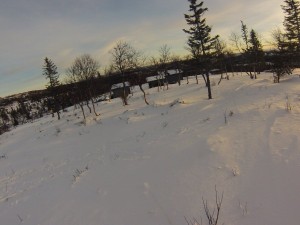 If you aim for these houses you are ok to go back to the lifts.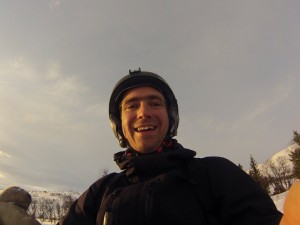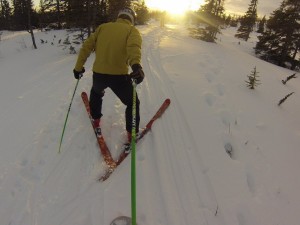 You get by with a little help from your friends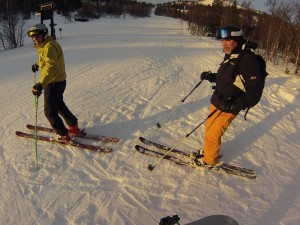 Coming down we decided to go for one more run, but this time I changed to skies since it just makes it easier to get around on the transport sections.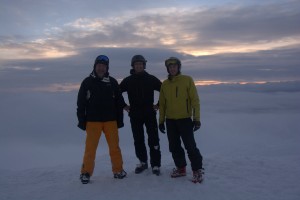 Thanks to Robert and Henrik for two great days in the slopes!
The boots? They worked like a charm, taking my snowboarding to a new level (or so I hope), just like Daniel at Åre Skidsport promised. Burned as hell when forming the inner shoe to my foot, but it was worth it!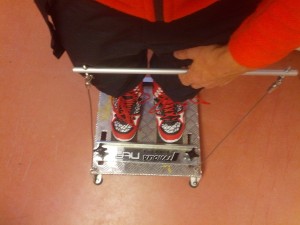 Information about Åreskutan from Wikipedia here