A great day trip from Rome is Ostia Lido, a beach resort where the Tiber enters the ocean. The trip is about 45 minutes by train and it is the same ticket as the metro. There are several stops that has a sign for the beach and we tried a couple of them, with the same result, an endless beach with private entrances.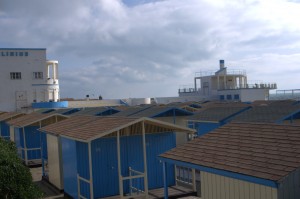 This is what the beach looks like if you climb the fence – hidden behind small cabins, probably full at high season.
Fortunately nobody seems to charge you for entering off season so we got in where we could find an opening in the fence. In October the water was still warm enough to swim in and since the beach was empty I managed to do some exercises for my up-coming kick boxing match.

Just a few stops before the beach we accidentally got off at Ostia Antica, and since we had nothing to do while waiting for the next train we hooked up with an American gentleman we met in search for some ruins he was looking for. Since sign making is considered a lesser art in Italy, we had to ask for directions, but you really just have to get off the train and walk away from the train station across the walk bridge and you will find it.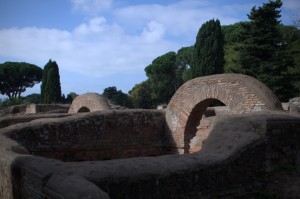 A €10 entrance fee and you enter a whole city, that used to be the main commercial port for Rome when before the Tiber changed it course. It is really an amazing place, with the old road (almost) intact and a whole grave-city so that the dead had somewhere to live as well!
The more recent castle on the way to the roman city was unfortunately closed the day we were there, but looked like a real cool place to go to next time!