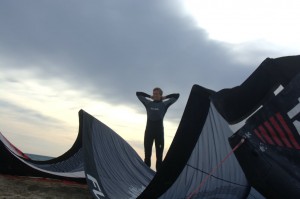 After talking to a guy in Corralejo, I decided that the best place to learn kiting on Fuerteventura is Sotavento. 360 days of wind might be an exaggeration, but lots of wind and a big sandy beach, that at high tide forms a lagoon. I have been told that there is a smaller lagoon that is independent of the tide further south, but unfortunately that beach is totally closed due to the filming of Exodus – Ridley Scotts movie about Moses and the journey (not as exciting as my adventures so what is the fuzz about?) from Egypt.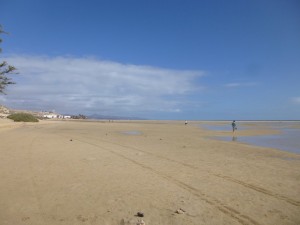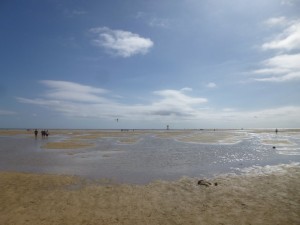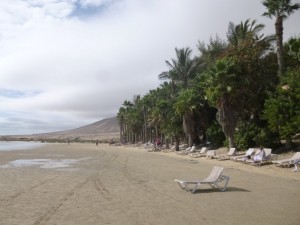 Well, I spent yesterday and today kiting in the low tide swell, lots of waves and hard to focus on the kite with all the waves to watch out for, but I had some good runs. It was supposed to be stormy today, but 24 knots (12 m/s) was not too bad – but too much for my 12 m2 kite. I tried, and almost flew off the beach, just like the security told me I would when he saw my kite.
Luckily, a Swiss guy that I met yesterday showed up, and we shared his 9 m2 kite taking turns kiting while the other rested.
Kris also gave me some tips that greatly improved my kiting, so in the end I could (almost) go from one end of the beach to the other side. At the end of the day we tried the 12 m2 and since the wind had calmed down it worked fine. But after 6 hours of kiting we were both really tired, and decided to call it a day.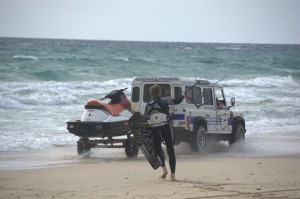 Lots of walking up and down the beach because of waves, inexperience and on-shore wind
This is how it felt, amazing how many pictures of me standing up there is
Not me… yet
Kite surfing is an extreme sport for (almost) all ages – best guy on the beach today with 4 meter high jumps, not a day under 60
Kris kiting like a pro
Tip of the day: Do not switch the kite while it is airborne if you are not sure what you are doing. I nearly killed a guy today! But to my relief, kiters seem to be a very forgiving kind of people! And yesterday I attached the security leash to the wrong ring and when the kite released (because) of it, it did not kill the kite. Guess that is two tips!
Tomorrow I am heading out early (at high tide) to try the lagoon with Bruno, another friendly guy I met yesterday! If the storm haven't hit us by then. And I have to go to Rene Egli Megastore to fix my board because the binding detached (wrong screws used – this is not my fault) and see if I can buy a 9 m2 kite as well – apparently you need one of those too…